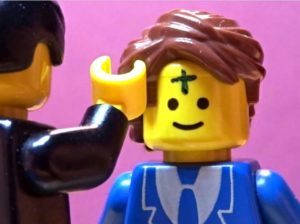 Riding my bike daily is one of the practices I have decided to take up for Lent. While we often think of Lent being a time when we give up something or when we take up a 'spiritual practice', something like prayer or alms giving, Lent can also be a time of reflection, repentance, and change. I need to turn from my unhealthy practices I have fallen into and take up healthy practices – my bike is quite literally a vehicle of change.
My goal is to ride 40 minutes each day for the 40 days of Lent. There is no speed goal. No distance goal. Only time and movement. The first day I fell short by 9 minutes. On day 2 Jenn rode with me and as I came to the point when my driveway was – RIGHT THERE – Jenn said, "Want to ride to the end of the street and back?" My head screamed NO! My legs concurred. But my mouth said "Sure", because I didn't want to appear weak and we rode a loop that gave us the extra 5 minutes we lacked to have gone the entire 40 minutes.
As we were out for our ride, we came to a place where the road is dirt (sand actually), that gives way to broken pavement and loose gravel. To make this all the more treacherous it's a decent downward incline (I live in Southeastern NC, most everything is pretty flat) with a giant mud puddle at the end. As I was riding I was constantly looking ahead, choosing my path though the danger that created the possibilities for a crash. My safest way was very clear. I began to think about how easy it was for me to see the safest path and direct my bike tires to follow. Which reminded me of a scripture I loved as a teen Proverbs 3:5-6 (CEB)
Trust in the Lord with all your heart;
don't rely on your own intelligence.
6 Know him in all your paths,
and he will keep your ways straight.
It was easy for me to trust my own judgment in choosing the path for my bike tires to follow yesterday. I was confident and self-assured that I would not fall and I would safely stay on my bike. But seeing life's path is not as confident a place for me. Seeing God's path for me isn't always clear but  staying on God's path is even harder. I don't think I am alone in this struggle.
So, in this season of Lent, while riding my bike, I'll be meditating on God's path (while watching for cars and loose impediments); and engaging with those who can help me discern my path and spur me on.