Elizabethon, TN has this beautiful covered bridge. The Elizabethton Covered Bridge was constructed in 1882, and is best remembered by me as the first place I tried beer (or any alcoholic beverage). In case you're wondering, the beer was warm and therefore nasty!
On our recent visit to Tennessee, Jenn asked if we could visit the bridge. Naturally, I took photos.
I don't like ducks (especially when people are feeding them)! But these were beautiful and never were interested in begging.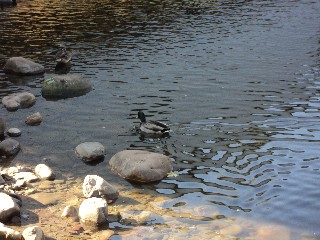 The Bridge was just as beautiful as I remember. Although I seem to recall that we could drive across it. Now it is strictly foot-traffic and bicycles.