I had surgery in December. It was major surgery which, as it turned out was more complicated than first expected. The story began about 12 weeks ago, I won't bore you with gory details, but from the beginning I have been calling this an experience.
Today I ran across this quote:
"Never regret. If it's good, it's wonderful. If it's bad, it's experience."—Victoria Holt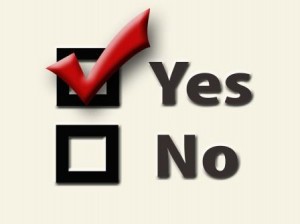 My word for 2012 (I usually pick three but in my year of simplify I am only choosing one) is yes. Yes means I am open to possibilities. Yes means I'm off the couch and into my life. And Yes means remembering to enjoy and appreciate the little things in my life.
My surgery has been very humbling. I've learned the small joys in life. Things like being able to stand without assistance and being able to put on your own socks. I have also learned the power of small gestures – A card, a call, or a Facebook message can have a huge impact.
In 2012 join me and saying yes to small (and large) adventures, say yes to expressing gratitude, and say yes life.