Yesterday, I attended the Step Up for Soldiers Barbeque Cook-Off in Carolina Beach. It was an amazingly beautiful January day (the high temperatures were in the mid 60's and the sky was a beautiful Carolina Blue – and if you know me you know that's not a reference to any tar on heels).
It was a great day of tasting wonderful BBQ, peddlin a little soap (and other Glynne's Soaps goods) and listening to live music all day. Not long after our arrival, I noticed the wide variety of footwear. There was everything from bare feet to very furry winter boots. Naturally, I was toten' a camera and thus began my journey to document the footwear. 32 feet, or photos, that's where I ended. Some are solo, other pairs or trios. Some are big, some are small, some look comfy, some…..well you decide:
The best part of my little project was the reaction of those I asked to photograph their feet (and yes, NO ONE turned me down). As I am sure you can tell from the photos, some people posed their feet for me. Others just stood still for the picture. Some acted as though I had lost my mind, and still others got in on the fun and pointed out footwear I just 'had to include'; and still others have no idea their feet or footwear (or lack thereof) were ever photographed.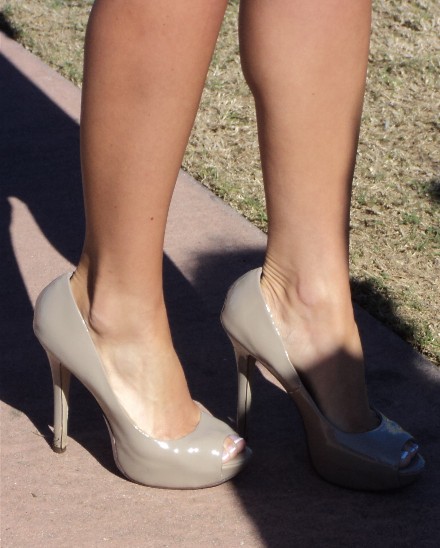 When I asked  Miss Coastal Carolina to allow me to photograph her feet, she seems a little taken-a-back but quickly recovered. She was a great sport; I am not sure I would have been in her shoes (the heel was ridiculously high and she had been walking around in soft soil for hours). I am sad we didn't get to hear her sing due to feed back issues with the sound equipment. I wish Miss Mary Catherine Tucker, well in her endeavors!
For those who may be wondering, I do not have a foot fetish. I don't wear great shoes (although I do LOVE my Sanuks) nor do I notice the footwear of others. This was not me getting touch with my inner fashionista. For me this little project was about the different ways we embrace the gift of a warm day in January. I'll leave you with a quote from Oprah Winfrey 'I still have my feet on the ground, I just wear better shoes.'
Embrace all your wonderful days, ya'll 🙂