This morning my blood sugar was 133. Not my best number but not my worst. I am pretty happy about this past weekend. I went for a walk on the beach yesterday (Sunday) and this morning I walked in my neighborhood. I didn't walk far or necessarily fast but I was moving and it's better than nothing 🙂
If you are a regular reader of my main blog The Outrageous Experiment, then you probably know I play fantasy football and baseball. It is no secret that this time of year, Girl Scout Cookies are available. Which begs the question, who doesn't love Girl Scout Cookies? Who ever it is, it is NOT me! I absolutely love Thin Mints, and the Peanut Butter cookies and the Lemon Cookies and …..OK I just love them ALL!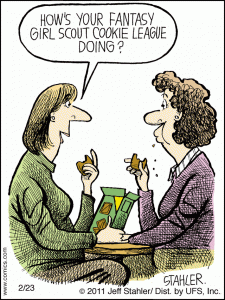 So a fantasy Girl Scout Cookie league would suit me perfectly!
Seriously, sweets are a huge draw for me. I LOVE them! And it is painful to miss out on the 'special' sweets of life. I end up doing things like buying 3 boxes of Girl Scout Cookies and eating them all (it was over a period of 2 weeks). In order to try to not feel like I am missing out on the 'good' (read sweets) in life, I've decided I can allow myself to eat the things I love….but only on Sundays and only in moderation.
I'll let you know how that works for me.