Motivation
The thing we all need to get us moving. No one crossed the finish line devoid of the motivation to start. Many of us find the motivation to start, but lack the motivation to continue. Much like the hare in the story of the tortoise and the hare, we start out motivated and strong but find our energy level waning until we end up napping. We lose our drive to the finish line.
When it comes to working out and exercise, we all know that having a partner can make all the difference in how successful we are in meeting our goals. A partner can encourage you to show up. A partner can help you to push a little harder. A partner can keep you motivated.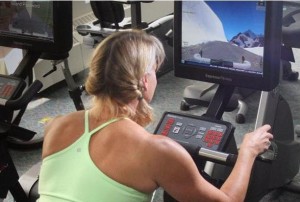 But what if you don't have a workout partner? Well, I have good news for you! A new research from Michigan State University reveals working out with a virtual partner improves motivation during exercise. The research, published in an upcoming edition of the Journal of Sport and Exercise Psychology, earlier this year found that 'working out with virtually present, superior partners can improve motivation on exercise game tasks,'  Deborah Feltz, chairperson of MSU's Department of Kinesiology said. 'These findings provide a starting point to test additional features that have the potential to improve motivational gains in health video games.'
Amazingly, researchers have found live exercise partners are not always the most helpful. 'Individuals can become discouraged if they believe they can never keep up with their partner, or on the other hand, become bored if their partner is always slower,' Feltz said. 'With a virtual partner, this can be addressed.'
So get out the video workout games and let the exercise bring!