All progress is precarious, and the solution of one problem brings us face to face with another problem. ~~ Martin Luther King, Jr.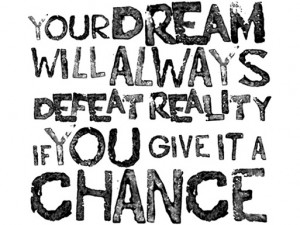 Today we celebrate Martin Luther King Day. It seemed appropriate to begin my post with a quote and this particular quote fit perfectly with my message. There are always obstacles to success.
Some obstacles are obvious; the friends who tempt you with cake while your dieting or monetary difficulties in purchasing equipment. However, some obstacles are unseen and therefore we are oft blindsided when they appear.
Two months ago I was blindsided by an obstacle. A health obstacle – I was already working on my goals for 2012 when everything and I do mean everything stopped while I dealt with my health issue. While I couldn't act on pursuit of my goals, I never lost sight of them. As I sit here today I still am not able to act on my physical goals but I think of them everyday. I plan how I will accomplish them.
I'll end for today where I began with a quote from Dr King: "We must accept finite disappointment, but never lose infinite hope." Keep sight of your goal my friend!