I suffer from PROCRASTINATION, in an all caps kinda way. Unfortunately, the busier I am, the less I seem to be productive.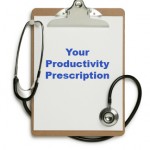 Here are 8 of my favorite suggestions on how you can make your day more productive.
Daily goals. Without a clear focus, it's too easy to succumb to distractions.  Set targets for each day in advance.  Decide what you'll do; then do it.
Worst first. To defeat procrastination learn to tackle your most unpleasant task first thing in the morning instead of delaying it until later in the day.  This small victory will set the tone for a very productive day.
Peak times. Identify your peak cycles of productivity, and schedule your most important tasks for those times.  Work on minor tasks during your non-peak times.
Deadline. Set a deadline for task completion, and use it as a focal point to stay on track.
Promise. Tell others of your commitments, since they'll help hold you accountable.
Resonance. Visualize your goal as already accomplished.  Put yourself into a state of actually being there.  Make it real in your mind, and you'll soon see it in your reality.
Glittering prizes. Give yourself frequent rewards for achievement.  See a movie, book a professional massage, or spend a day at an amusement park.
Nuke it! The most efficient way to get through a task is to delete it.  If it doesn't need to be done, get it off your to do list.