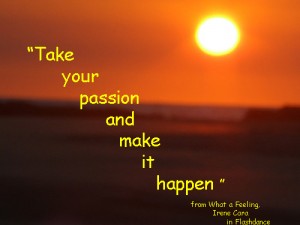 If you are like most of us, you get out of bed in the morning and go about your day doing your job. Perhaps you have convinced yourself that you work because you enjoy eating and having a roof over your head; but what if your work was as exciting as your play? What if your passion was aligned with your work? If this sounds like a good life, then you need to determine what your passion is.  According to a recent survey, about 75% of the population has not identified their passion in life. Plainly, just about everyone seems to not be doing what they were meant to do. This is a great revelation because doing what we really love is absolutely necessary if we want to be fully happy. Maybe this is why we have so many unhappy people!
So, that begs the question, what is your passion?
Here are a few steps that can help you identify you life's passion.
What would you do for free?
So think about something that you would just love to do, even if you were not getting paid. Think about something that you look forward to doing, something that you wish you could do all the time.
What puts a smile on your face?
Think about something that you do or that perhaps you used to do that brings total peace to you when you do it. Peace is happiness, and happiness is passion.
What do you like to talk about?
The topics of conversation we have can definitely tell what we are interested in. You may not be aware of the topics you gravitate toward. So ask your friends! Ask them what topic makes your eyes brighten up, and changes your entire behavior. Try it out; it's a very insightful exercise, and one that can direct you closer to figuring out your passion.
What do you find easy?
And don't think that anything is off limits or impractical. Some people have taken their passion for skateboarding, drawing, or collecting to full fledged careers. Remember this; you can make a career out of anything you are passionate about.
Passion is energy. Feel the power that comes from focusing on what excites you.  ~~ Oprah Winfrey
Did you like this article? Why don't you share it?