I want to write today about time management. Mostly because I suck at it! I spin my wheels; I spend my day daydreaming and pontificating and then complain that 'I JUST DON'T HAVE ENOUGH TIME'! This morning, I decided I needed real world solutions to my real world problem.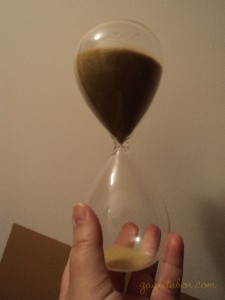 Let me begin by saying, I like to think I know a lot about time management (I also believe that about exercise and diet) and I just don't put what I know into practice. However, you and I both know that a guy who knew how to cure cancer but never shared it would just be some unknown smuck. An expert that can not put the knowledge to practical use isn't really an expert (maybe that's just my opinion).
My biggest complaint about time is that I have little free time. However, after putting into practice, what I consider my best way for understanding my time and how I spend my time:
I take a sheet of paper. I draw in seven days. I divide each day in to 24 hour increments. I color code blocks of daily activities (sleep, exercise, eating, work, repetitive leisure activities, etc) then I look at the time left (the white space). I then spend real time pondering the white space and how I want that time to be spent.
I have come to realize I have plenty of free time; I just am choosing to spend the time in ways that are less than satisfying.
As is my practice when I begin to write on a topic I do a little internet research. Today my research revealed a book I am very interested to read: 168 Hours: You Have More Time Than You Think
(affiliate link). Every review says the book is chock-full of good tips and tricks for accomplishing more every day and therefore every week. I did read criticism that the author suggests delegating and outsourcing many regular tasks (cooking, cleaning, laundry, etc) and we all can't afford to pay to have those takes performed for us; but I'll reserve judgment until I've actually read the book. (You can read an excerpt here).
I realize I am rambling a bit, and I apologize, but here's my point:
You have more free time than you think – the real question is how do you spend it?
Are you watching NCIS (or fill in the blank for whatever show is your time waster) reruns?
Are you playing on Facebook (or twitter)?
Are you pretending to work?
Are you doing something you really want to do?
Try for this week to actually track your hours for a full week.
It won't be easy.
You may become disgusted with yourself (and how much time you are losing to frivolous and inane activities) – I fully expect I will. But just like in business, you can't manage what you don't measure.
It is time for me to measure and manage my time – what about you?