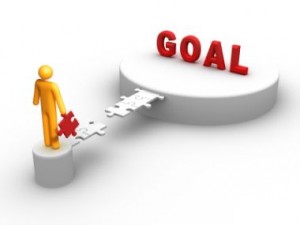 Do you have a goal? Sure you do. It could be simple stuff…like, get out of bed each day. It could be fun stuff like read the stay on target blog everyday. Maybe it's to find your dream job and live a better life. It doesn't matter because these six simple steps will help you to achieve your goal!
1. Believe in your own success
If you DON'T believe you can do it, who will? Develop a belief in yourself! Learn to motivate yourself. You can hire a goal coach, like Coach T but, in the end, all you'll ever have is you and your goal. You must do what is necessary to create greatness.
2. Mental Visualization
See the result you want clearly. Rehearse it over and over again in your mind. Athletes do this all the time and so can you. Seeing your success removes doubt, and builds confidence. See what you want and put yourself in the picture
3. Never Give up
Persistence is the key that unlocks the door. All the wonders of the success you deserve are waiting just on the other side of the locked door. Your success may not come when you want it but with perseverance it will come.
4. Take 100% Responsibility
Empowerment to reach your goal will come when you learn to take 100 percent responsibility for your life. Be the CEO of your life.
5. Focus on Important Tasks
Tune out the nay-Sayers and the over stimulating noise of the world around you and focus on your goal and the tasks you need to accomplish to realize your goal.
6. Have a deadline
Do yourself a solid favor and make a deadline for your goal. A deadline will keep you motivated, prevent procrastination and move you towards your dreams. And the reality is your goal is reaching your goal.
What are you waiting for? Get Started!