Yesterday I was having a sugar attack; which is to say that I wanted some cake so bad I could hardly stand it! I didn't feel well and I was lying on the couch at the end of the day complaining that I wanted cake. Chocolate cake! Jenn had to go to the store and she asked if there was anything that would make me feel better and I answered 'a bag of Oreo's – I want to eat the WHOLE bag!' As she left I amended my answer to say, 'if you happen to see something sugar-free that might suffice, get it.'
We may have made the best discovery in the quest to be sugar-free!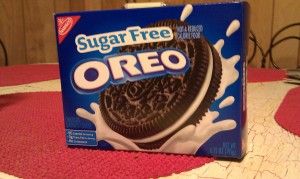 SUGAR-Free Oreo's! They are not as tasty as the original cookie and they certainly are no Double Stuffs. and at 100 calories for 2 cookies, they are not a diet item. However, they filled my need for sweets without a huge bump in my sugar intake!
Thank you Nabisco!
Nutritional info from the package
Serving size: 24g
Amount Per Serving
Calories
100
Calories from Fat
45
Calories from Saturated Fat
Amount Per Serving and/or % Daily Value*
Total Fat
5g (8%)
Saturated Fat
1.5g (8%)
Polyunsaturated Fat
Monounsaturated Fat
Trans Fat
0g
Cholesterol
0g (0%)
Sodium
110mg (5%)
Potassium
Total Carbohydrate
Dietary Fiber
3g (12%)
Soluble Fiber
Insoluble Fiber
Sugars
0g
Sugar Alcohol
Other Carbohydrate
Protein
2g
Amount Per Serving and/or % Daily Value*
Vitamin A
0%
Percent of vitamin A present as beta-carotene
Vitamin C
0%
Calcium
Iron
2%
Vitamin D
4%
Vitamin E
Riboflavin
Niacin
12%
Vitamin B6
Vitamin B12
Phosphorous
0%
Iodine
0%
Zinc
2%
Magnesium
4%
Copper
Folic Acid
*Percent Daily Values are based on a 2,000 calorie diet. Your daily values may be higher or lower based on your calorie needs.